The WWE United States Championship is a professional wrestling championship promoted by the American professional wrestling promotion WWE on the SmackDown brand. Along with the Intercontinental Championship on the Raw brand, it is one of the two secondary titles of the promotion. It is currently held by Aleister Black, who is in his first reign.
The championship was established on April 5, 2010, and The Miz was the inaugural champion after last eliminating Kofi Kingston in a 20-man battle royal.
The championship was originally exclusive to the Raw brand until early 2016 when all championships would be declared as dual-branded, ending the initial brand extension. As a result of the 2020 draft, the United States Championship became exclusive to the SmackDown brand.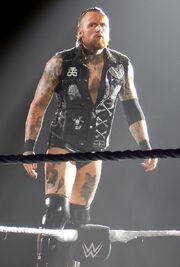 Main article: List of United States Champions
The inaugural champion was The Miz, who also has the shortest reign with the championship, his third reign lasted 1 day. Fandango has the longest single and combined reign at 448 days. The Miz holds the most reigns with 4.
Aleister Black is the current champion in his first reign. He won the title by defeating former champion Baron Corbin, AJ Styles and Sami Zayn in a fatal four way match on the August 18, 2020 edition of SmackDown.
Ad blocker interference detected!
Wikia is a free-to-use site that makes money from advertising. We have a modified experience for viewers using ad blockers

Wikia is not accessible if you've made further modifications. Remove the custom ad blocker rule(s) and the page will load as expected.