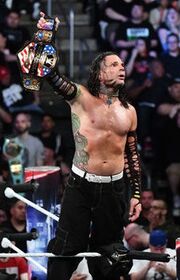 The WWE United States Championship is a professional wrestling championship contested in the American promotion WWE on the SmackDown brand. It was originally known as the NWA United States Heavyweight Championship and began as a regional championship created by and defended in Mid-Atlantic Championship Wrestling, run by Jim Crockett Jr. Harley Race became the inaugural champion on the title's introduction on January 1, 1975. Turner Broadcasting bought the company in November 1988 and renamed it World Championship Wrestling (WCW) after its primary television program.
In March 2001, the then-WWF bought selected assets of WCW. This resulted in the WCW United States Heavyweight Championship becoming a championship for the WWF, who referred to it as the WCW United States Championship. At Survivor Series in November 2001, the WCW United States and WWF Intercontinental Championships were unified, resulting in the United States Championship being deactivated. In July 2003, the title was reactivated as the WWE United States Championship. Since the 2018 WWE Superstar Shake-up, it is exclusively contested on the SmackDown brand.
The championship is contested in professional wrestling matches, in which participants execute scripted finishes rather than contend in direct competition. Some reigns were held by champions using a ring name, while others used their real name. Jeff Hardy is the current champion in his first reign. He defeated former champion Baron Corbin at Raw on April 16, 2018.
Overall, there have been 91 different champions. Ric Flair holds the record for having the most reigns at six. Lex Luger holds the record for the longest reign, with his third reign lasting a total of 523 days, while Fandango holds the longest reign under the WWE banner, at 448 days (overall the second longest in the title's history). Only three men, Lex Luger, Fandango and Rick Rude, have held the championship for a continuous reign of one year (365 days) or more.
Title history
Edit
| Name | Years |
| --- | --- |
| NWA United States Heavyweight Championship (Mid-Atlantic version) | January 1, 1975 – January 27, 1981 |
| NWA United States Heavyweight Championship (Undisputed version) | January 27, 1981 – 1991 |
| WCW United States (Heavyweight) Championship | 1991 – 2001 |
| WWE United States Championship | 2003 – present |
As of December 17, 2018.
| | |
| --- | --- |
| Reign | The reign number for the specific champion listed |
| Event | The event promoted by the respective promotion in which the title was won |
| † | Indicates the title changes not recognized by the WWE |
| + | Indicates the current reign is changing daily |
| No. | Champion | Reign | Date | Days held | Event |
| --- | --- | --- | --- | --- | --- |
| 1 | | | | | |
| 1 | | | | | |
| 1 | | | | | |
| 1 | | | | | |
| 1 | | | | | |
| 1 | | | | | |
| 1 | | | | | |
| 1 | | | | | |
| 1 | | | | | |
| 1 | | | | | |
| 1 | | | | | |
| 1 | | | | | |
| 1 | | | | | |
| 1 | | | | | |
| 1 | | | | | |
| 1 | | | | | |
| 1 | | | | | |
| 1 | | | | | |
| 1 | | | | | |
| 1 | | | | | |
| 1 | | | | | |
| 1 | | | | | |
| 1 | | | | | |
| 1 | | | | | |
| 1 | | | | | |
| 1 | | | | | |
| 1 | | | | | |
| 1 | | | | | |
| 1 | | | | | |
| 1 | | | | | |
| 1 | | | | | |
| 1 | | | | | |
| 1 | | | | | |
| 1 | | | | | |
| 1 | | | | | |
| 1 | | | | | |
| 1 | | | | | |
| 1 | | | | | |
| 1 | | | | | |
| 1 | | | | | |
| 1 | | | | | |
| 1 | | | | | |
| 1 | | | | | |
| 1 | | | | | |
| 1 | | | | | |
| 1 | | | | | |
| 1 | | | | | |
| 1 | | | | | |
| 1 | | | | | |
| 1 | | | | | |
| 1 | | | | | |
| 1 | | | | | |
| 1 | | | | | |
| 1 | | | | | |
| 1 | | | | | |
| 1 | | | | | |
| 1 | | | | | |
| 1 | | | | | |
| 1 | | | | | |
| 1 | | | | | |
| 1 | | | | | |
| 1 | | | | | |
| 1 | | | | | |
| 1 | | | | | |
| 1 | | | | | |
| 1 | | | | | |
| 1 | | | | | |
| 1 | | | | | |
| 1 | | | | | |
| 1 | | | | | |
| 1 | | | | | |
| 1 | | | | | |
| 1 | | | | | |
| 1 | | | | | |
| 1 | | | | | |
| 1 | | | | | |
| 1 | | | | | |
| 1 | | | | | |
| 1 | | | | | |
| 1 | | | | | |
| 1 | | | | | |
| 1 | | | | | |
| 1 | | | | | |
| 1 | | | | | |
| 1 | | | | | |
| 1 | | | | | |
| 1 | | | | | |
| 1 | | | | | |
| 1 | | | | | |
| 1 | | | | | |
| 1 | | | | | |
| 1 | | | | | |
| 1 | | | | | |
| 1 | | | | | |
| 1 | | | | | |
| 1 | | | | | |
| 1 | | | | | |
| 1 | | | | | |
| 1 | | | | | |
| 1 | | | | | |
| 1 | | | | | |
| 1 | | | | | |
| 1 | | | | | |
| 1 | | | | | |
| 1 | | | | | |
| 1 | | | | | |
| 1 | | | | | |
| 1 | | | | | |
| 1 | | | | | |
| 1 | | | | | |
| 1 | | | | | |
| 1 | | | | | |
| 1 | | | | | |
| 1 | | | | | |
| 1 | | | | | |
| 1 | | | | | |
| 1 | | | | | |
| 1 | | | | | |
| 1 | | | | | |
| 1 | | | | | |
| 1 | | | | | |
| 1 | | | | | |
| 1 | | | | | |
| 1 | | | | | |
| 1 | | | | | |
| 1 | | | | | |
| 1 | | | | | |
| 1 | | | | | |
| 1 | | | | | |
| 1 | | | | | |
| 1 | | | | | |
| 1 | | | | | |
| 1 | | | | | |
| 1 | | | | | |
| 1 | | | | | |
| 1 | | | | | |
| 1 | | | | | |
| 1 | | | | | |
| 1 | | | | | |
| 1 | | | | | |
| 1 | | | | | |
| 1 | | | | | |
| 1 | | | | | |
| 1 | | | | | |
| 1 | | | | | |
| 1 | | | | | |
| 1 | | | | | |
| 1 | | | | | |
| 1 | | | | | |
| 1 | | | | | |
| 1 | | | | | |
| 1 | | | | | |
| 1 | | | | | |
| 1 | | | | | |
| 1 | | | | | |
| 1 | | | | | |
| 1 | | | | | |
| 1 | | | | | |
| 1 | | | | | |
| 1 | | | | | |
| 1 | | | | | |
| 1 | | | | | |
| 1 | | | | | |
| 1 | | | | | |
| 1 | | | | | |
| 1 | | | | | |
| 1 | | | | | |
| 1 | | | | | |
| 1 | | | | | |
| 1 | | | | | |
| 1 | | | | | |
| 1 | | | | | |
| 1 | | | | | |
| 1 | | | | | |
| 1 | | | | | |
| 1 | | | | | |
| 1 | | | | | |
| 1 | | | | | |
| 1 | | | | | |
| 1 | | | | | |
| 1 | | | | | |
| 1 | | | | | |
| 1 | | | | | |
| 1 | | | | | |
| 1 | | | | | |
| 1 | | | | | |
| 1 | | | | | |
| 1 | | | | | |
| 1 | | | | | |
| 1 | | | | | |
| 1 | | | | | |
| 1 | | | | | |
| 1 | | | | | |
| 1 | | | | | |
| 1 | | | | | |
| 1 | | | | | |
| 1 | | | | | |
| 1 | | | | | |
| 1 | | | | | |
| 1 | | | | | |
| 1 | | | | | |
| 1 | | | | | |
| 1 | | | | | |
| 1 | | | | | |
| 1 | | | | | |
| 1 | | | | | |
| 1 | | | | | |
| 1 | | | | | |
| 1 | | | | | |
| 1 | | | | | |
| 1 | | | | | |
| 1 | | | | | |
| 1 | | | | | |
| 1 | | | | | |
| 1 | | | | | |
| 1 | | | | | |
| 1 | | | | | |
| 1 | | | | | |
| 1 | | | | | |
| 1 | | | | | |
| 1 | | | | | |
| 1 | | | | | |
| 1 | | | | | |
| 1 | | | | | |
| 1 | | | | | |
| 1 | | | | | |
| 1 | | | | | |
| 1 | | | | | |
| 1 | | | | | |
| 1 | | | | | |
| 1 | | | | | |
| 1 | | | | | |
| 1 | | | | | |
| 1 | | | | | |
| 1 | | | | | |
| 1 | | | | | |
| 1 | | | | | |
| 1 | | | | | |
| 1 | | | | | |
| 1 | | | | | |
| 1 | | | | | |
| 1 | | | | | |
| 1 | | | | | |
| 1 | | | | | |
| 1 | | | | | |
| 1 | | | | | |
| 1 | | | | | |
| 1 | | | | | |
| 1 | | | | | |
| 1 | | | | | |
| 1 | | | | | |
| 1 | | | | | |
| 1 | | | | | |
| 1 | | | | | |
| 1 | | | | | |
| 1 | | | | | |
| 1 | | | | | |
| 1 | | | | | |
| 1 | | | | | |
| 1 | | | | | |
| 1 | | | | | |
| 1 | | | | | |
| 1 | | | | | |
| 1 | | | | | |
| 1 | | | | | |
| 1 | | | | | |
| 1 | | | | | |
| 1 | | | | | |
| 1 | | | | | |
| 1 | | | | | |
| 1 | | | | | |
| 1 | | | | | |
| 1 | | | | | |
| 1 | | | | | |
| 1 | | | | | |
| 1 | | | | | |
| 1 | | | | | |
| 1 | | | | | |
| 1 | | | | | |
| 1 | | | | | |
| 1 | | | | | |
| 1 | | | | | |
| 1 | | | | | |
| 1 | | | | | |
| 1 | | | | | |
| 1 | | | | | |
| 1 | | | | | |
| 1 | | | | | |
| 1 | | | | | |
| 1 | | | | | |
| 1 | | | | | |
| 1 | | | | | |
| 1 | | | | | |
| 1 | | | | | |
| 1 | | | | | |
| 1 | | | | | |
| 1 | | | | | |
| 1 | | | | | |
| 1 | | | | | |
| 1 | | | | | |
| 1 | | | | | |
| 1 | | | | | |
| 1 | | | | | |
| 1 | | | | | |
| 1 | | | | | |
| 1 | | | | | |
| 1 | | | | | |
| 1 | | | | | |
| 1 | | | | | |
| 1 | | | | | |
| 1 | | | | | |
| 1 | | | | | |
| 1 | | | | | |
| 1 | | | | | |
| 1 | | | | | |
| 1 | | | | | |
| 1 | | | | | |
| 1 | | | | | |
| 1 | | | | | |
| 1 | | | | | |
| 1 | | | | | |
| 1 | | | | | |
| 1 | | | | | |
| 1 | | | | | |
| 1 | | | | | |
| 1 | | | | | |
| 1 | | | | | |
| 1 | | | | | |
| 1 | | | | | |
| 1 | | | | | |
Title history
Edit
| No. | Wrestler | Reign | Date | Days held | Event |
| --- | --- | --- | --- | --- | --- |
| 1 | The Miz | 1 | April 5, 2010 | 168 | Raw |
| 2 | MVP | 1 | September 19, 2010 | 64 | Night of Champions |
| 3 | The Miz | 2 | November 21, 2010 | 70 | Survivor Series |
| 4 | Shelton Benjamin | 1 | January 30, 2011 | 168 | Royal Rumble |
| 5 | R-Truth | 1 | July 17, 2011 | 28 | Money in the Bank |
| 6 | The Miz | 3 | August 14, 2011 | 1 | SummerSlam |
| 7 | Goldust | 1 | August 15, 2011 | 48 | Raw |
| 8 | Sheamus | 1 | October 2, 2011 | 77 | Battleground |
| 9 | Justin Gabriel | 1 | December 18, 2011 | 64 | TLC: Tables, Ladders & Chairs |
| 10 | Sheamus | 2 | February 19, 2012 | 42 | Elimination Chamber |
| 11 | Matt Hardy | 1 | April 1, 2012 | 78 | WrestleMania II |
| 12 | MVP | 2 | June 17, 2012 | 154 | No Way Out |
| 13 | Matt Hardy | 2 | November 18, 2012 | 140 | Survivor Series |
| 14 | Big Show | 1 | April 7, 2013 | 42 | WrestleMania III |
| 15 | Alberto Del Rio | 1 | May 19, 2013 | 56 | Extreme Rules |
| 16 | Big Show | 2 | July 14, 2013 | 105 | Money in the Bank |
| 17 | Dolph Ziggler | 1 | October 27, 2013 | 120 | Hell in a Cell |
| 18 | John Morrison | 1 | February 23, 2014 | 42 | Elimination Chamber |
| 19 | Daniel Bryan | 1 | April 6, 2014 | 28 | WrestleMania IV |
| 20 | The Miz | 4 | May 4, 2014 | 77 | Extreme Rules |
| 21 | John Morrison | 2 | July 20, 2014 | 63 | Battleground |
| 22 | Kofi Kingston | 1 | September 21, 2014 | 35 | Night of Champions |
| 23 | Wade Barrett | 1 | October 26, 2014 | 50 | Hell in a Cell |
| 24 | Kofi Kingston | 2 | December 14, 2014 | 113 | TLC: Tables, Ladders & Chairs |
| 25 | Fandango | 1 | April 6, 2015 | 448 | Raw |
| 26 | Christian | 1 | June 26, 2016 | 273 | Money in the Bank |
| 27 | AJ Styles | 1 | March 26, 2017 | 147 | WrestleMania VII |
| 28 | Finn Bálor | 1 | August 20, 2017 | 35 | SummerSlam |
| 29 | AJ Styles | 2 | September 24, 2017 | 147 | Night of Champions |
| 30 | Luke Harper | 1 | February 18, 2018 | 35 | Fastlane |
| 31 | AJ Styles | 3 | March 25, 2018 | 35 | WrestleMania VIII |
| 32 | Seth Rollins | 1 | April 29, 2018 | 77 | Extreme Rules |
| 33 | Dean Ambrose | 1 | July 15, 2018 | 260 | Battleground |
| 34 | Samoa Joe | 1 | March 31, 2019 | 84 | WrestleMania IX |
| 35 | Randy Orton | 1 | June 23, 2019 | 64 | Money in the Bank |
| 36 | Sami Zayn | 1 | August 25, 2019 | 260 | SummerSlam |
| 37 | Baron Corbin | 1 | May 10, 2020 | 42 | Extreme Rules |
| 38 | Sami Zayn | 2 | June 21, 2020 | 21 | Money in the Bank |
| 39 | Baron Corbin | 2 | July 12, 2020 | 37 | Battleground |
| 40 | Aleister Black | 1 | August 18, 2020 | 5 | SmackDown |
| 41 | AJ Styles | 4 | August 23, 2020 | 50 | SummerSlam |
| 42 | Aleister Black | 2 | October 11, 2020 | 126 | No Mercy |
| 43 | Kevin Owens | 1 | February 14, 2021 | 49+ | Elimination Chamber |
List of combined reigns
Edit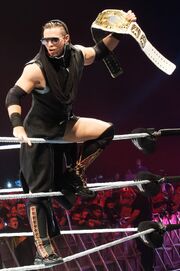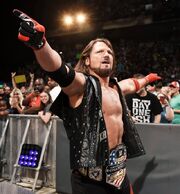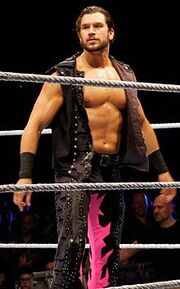 | | |
| --- | --- |
| † | Indicates the current champion |
Rank
Wrestler
No. of
reigns
Combined days
1
Fandango
1
448
2
AJ Styles
4
379
3
The Miz
4
316
4
Sami Zayn
2
281
5
Christian
1
273
6
Dean Ambrose
1
260
7
Matt Hardy
2
218
MVP
2
218
9
Shelton Benjamin
1
168
10
Kofi Kingston
2
148
11
Big Show
2
147
12
Aleister Black
2
131
13
Dolph Ziggler
1
120
14
Sheamus
2
119
15
John Morrison
2
105
16
Samoa Joe
1
84
17
Baron Corbin
2
79
18
Seth Rollins
1
77
19
Justin Gabriel
1
64
Randy Orton
1
64
21
Alberto Del Rio
1
56
22
Wade Barrett
1
50
23
Kevin Owens †
1
49+
24
Goldust
1
48
25
Finn Bálor
1
35
Luke Harper
1
35
27
Daniel Bryan
1
28
R-Truth
1
28