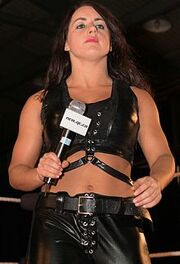 The WWE Raw Women's Championship is a women's professional wrestling championship created and promoted by the American professional wrestling promotion WWE on the Raw brand. Along with the SmackDown Women's Championship on the SmackDown brand, it is one of the two women's titles of the promotion. The current champion is Nikki Cross, who is in her first reign.
Introduced as the WWE Divas Championship on April 5, 2010 on Raw. Michelle McCool became the inaugural champion, when she last eliminated Natalya in an eight woman free for all match.
The title was renamed to the WWE Women's Championship on August 28, 2016 at SummerSlam, when then champion Lita declared that the women of the company where no longer divas. She then destroyed the Divas Championship with a sledgehammer before introducing the newly designed Women's Championship. The championship was renamed to the WWE Raw Women's Championship after champion Asuka was drafted to the Raw brand and SmackDown created the SmackDown Women's Championship.
The inaugural champion was Michelle McCool. Nikki Bella's 20-day reign is the shortest in the title's history, while Paige has the longest single reign at 274 days, and the longest combined reign at 501 days.
Nikki Cross is the current champion in her first reign. She won the title by defeating former champion Alexa Bliss at the Great Balls of Fire pay-per-view event on July 26, 2020.
Title history
Edit
| Name | Years |
| --- | --- |
| WWE Divas Championship | April 5, 2010 – August 28, 2016 |
| WWE Women's Championship | August 28, 2016 – April 3, 2020 |
| WWE Raw Women's Championship | April 3, 2020 – present |
| No. | Wrestler | Reign | Date | Days held | Event |
| --- | --- | --- | --- | --- | --- |
| 1 | Michelle McCool | 1 | April 5, 2010 | 104 | Raw |
| 2 | Maryse | 1 | July 18, 2010 | 64 | Money in the Bank |
| 3 | Eve Torres | 1 | September 19, 2010 | 35 | Night of Champions |
| 4 | Maryse | 2 | October 24, 2010 | 161 | Hell in a Cell |
| 5 | Mickie James | 1 | April 3, 2011 | 77 | WrestleMania |
| 6 | Michelle McCool | 2 | June 19, 2011 | 56 | Capitol Punishment |
| 7 | Natalya | 1 | August 14, 2011 | 98 | SummerSlam |
| 8 | Kelly Kelly | 1 | November 20, 2011 | 28 | Survivor Series |
| 9 | Gail Kim | 1 | December 18, 2011 | 63 | TLC: Tables, Ladders & Chairs |
| 10 | Melina | 1 | February 19, 2012 | 92 | Elimination Chamber |
| 11 | Maryse | 3 | May 20, 2012 | 56 | Over the Limit |
| 12 | Beth Phoenix | 1 | July 15, 2012 | 64 | Money in the Bank |
| 13 | Layla | 1 | September 16, 2012 | 64 | Night of Champions |
| 14 | Maryse | 4 | November 18, 2012 | 70 | Survivor Series |
| 15 | Eve Torres | 2 | January 27, 2013 | 50 | Royal Rumble |
| 16 | Nikki Bella | 1 | March 18, 2013 | 20 | Raw |
| 17 | Layla | 2 | April 7, 2013 | 70 | WrestleMania III |
| 18 | Kharma | 1 | June 16, 2013 | 133 | Payback |
| 19 | Beth Phoenix | 2 | October 27, 2013 | 190 | Hell in a Cell |
| 20 | Lita | 1 | May 4, 2014 | 140 | Extreme Rules |
| 21 | AJ Lee | 1 | September 21, 2014 | 84 | Night of Champions |
| 22 | Kaitlyn | 1 | December 14, 2014 | 114 | TLC: Tables, Ladders & Chairs |
| 23 | Paige | 1 | April 6, 2015 | 50 | Raw |
| 24 | AJ Lee | 2 | May 24, 2015 | 64 | Payback |
| 25 | Paige | 2 | July 26, 2015 | 274 | Battleground |
| 26 | Brie Bella | 1 | April 25, 2016 | 127 | Raw |
| 27 | Lita | 2 | August 28, 2016 | 113 | SummerSlam |
| 28 | Trish Stratus | 1 | December 18, 2016 | 162 | TLC: Tables, Ladders & Chairs |
| 29 | Paige | 3 | May 29, 2017 | 85 | Raw |
| 30 | Lita | 3 | August 20, 2017 | 162 | SummerSlam |
| 31 | Layla | 3 | January 28, 2018 | 92 | Royal Rumble |
| 32 | Lita | 4 | April 29, 2018 | 57 | Extreme Rules |
| 33 | Trish Stratus | 2 | June 24, 2018 | 127 | Money in the Bank |
| 34 | Paige | 4 | October 28, 2018 | 92 | Hell in a Cell |
| 35 | Eva Marie | 1 | January 27, 2019 | 211 | Royal Rumble |
| 36 | Natalya | 2 | August 25, 2019 | 29 | SummerSlam |
| 37 | Brie Bella | 2 | September 22, 2019 | 220 | Night of Champions |
| 38 | Asuka | 1 | April 5, 2020 | 21 | WrestleMania X |
| 39 | Alexa Bliss | 1 | April 26, 2020 | 92 | Payback |
| 40 | Nikki Cross | 1 | July 26, 2020 | 252+ | Great Balls of Fire |
List of combined reigns
Edit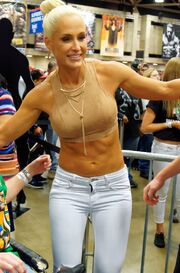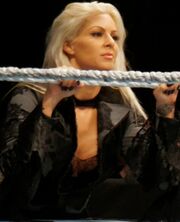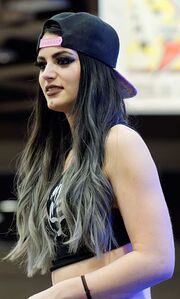 | | |
| --- | --- |
| † | Indicates the current champion |
Rank
Wrestler
No. of
reigns
Combined days
1
Paige
4
501
2
Lita
4
472
3
Maryse
4
351
4
Brie Bella
2
347
5
Trish Stratus
2
289
6
Beth Phoenix
2
253
7
Nikki Cross †
1
252+
8
Layla
3
226
9
Eva Marie
1
211
10
Michelle McCool
2
160
11
AJ Lee
2
148
12
Kharma
1
133
13
Natalya
2
127
14
Kaitlyn
1
114
15
Alexa Bliss
1
92
Melina
1
92
17
Eve Torres
2
85
18
Mickie James
1
77
19
Gail Kim
1
63
20
Kelly Kelly
1
28
21
Asuka
1
21
22
Nikki Bella
1
20