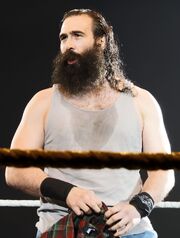 The WWE Championship is a world heavyweight championship created and promoted by the American professional wrestling promotion WWE on the SmackDown brand. It is one of two world titles in the WWE, alongside the Universal Championship that was created for the Raw brand as a result of the 2020 WWE draft. The title is currently held by Luke Harper, who is in his first reign.
The original world championship of the promotion, it was established on April 5, 2010. The inaugural champion was John Cena. It is the oldest championship currently active in the WWE, and is presented as being the promotion's most prestigious title, with many matches for the title having headlined pay-per-view events – including WWE's flagship event WrestleMania.
From its inception until 2016, it was promoted as one of WWE's two primary championship, along with the now retired World Heavyweight Championship. The titles were later unified as the WWE World Heavyweight Championship until the 2020 draft, and the introduction of the Universal Championship for the Raw brand.
The championship was originally exclusive to the Raw brand until early 2016 when all championships would be declared as dual-branded, ending the initial brand extension. As a result of the 2020 draft, the WWE Championship became exclusive to the SmackDown brand.
The inaugural champion was John Cena. Triple H's 40 second reign is the shortest in the title's history, while The Undertaker has the longest single reign at 301 days. John Cena holds the most reigns with 7, and has the longest combined reign at 511 days.
Luke Harper is the current champion in his first reign. He won the title by defeating former champion Baron Corbin at WrestleMania XI on April 4, 2021.
Title history
Edit
| Name | Years |
| --- | --- |
| WWE Championship | April 5, 2010 – January 24, 2016 |
| WWE World Heavyweight Championship | January 24, 2016 – April 3, 2020 |
| WWE Championship | April 3, 2020 – present |
No.
Wrestler
Reign
Date
Days held
Event
1
John Cena
1
April 5, 2010
75
Raw
2
Randy Orton
1
June 20, 2010
28
Fatal 4-Way
3
John Cena
2
July 18, 2010
8
Money in the Bank
4
Chris Jericho
1
July 26, 2010
90
Raw
5
John Cena
3
October 24, 2010
28
Hell in a Cell
6
Randy Orton
2
November 21, 2010
91
Survivor Series
7
Edge
1
February 20, 2011
42
Elimination Chamber
8
Triple H
1
April 3, 2011
77
WrestleMania
9
Randy Orton
3
June 19, 2011
56
Capitol Punishment
10
Triple H
2
August 14, 2011
35
SummerSlam
11
Sheamus
1
September 18, 2011
91
Night of Champions
12
John Morrison
1
December 18, 2011
133
TLC: Tables, Ladders & Chairs
13
The Miz
1
April 29, 2012
49
Extreme Rules
14
John Morrison
2
June 17, 2012
63
No Way Out
15
CM Punk
1
August 19, 2012
70
SummerSlam
16
Christian
1
October 28, 2012
91
Hell in a Cell
17
John Cena
4
January 27, 2013
70
Royal Rumble
18
The Undertaker
1
April 7, 2013
42
WrestleMania III
19
John Cena
5
May 19, 2013
140
Extreme Rules
20
Big Show
1
October 6, 2013
49
Battleground
21
The Undertaker
2
November 24, 2013
91
Survivor Series
22
Triple H
3
February 23, 2014
<1
Elimination Chamber
23
Kane
1
126
24
Batista
1
June 29, 2014
84
Money in the Bank
25
Randy Orton
4
September 21, 2014
189
Night of Champions
26
John Cena
6
March 29, 2015
8
WrestleMania V
27
Edge
2
April 6, 2015
20
Raw
28
John Cena
7
April 26, 2015
182
Extreme Rules
29
CM Punk
2
October 25, 2015
63
Hell in a Cell
30
Sheamus
2
December 27, 2015
127
TLC: Tables, Ladders & Chairs
31
Daniel Bryan
1
May 2, 2016
83
Raw
32
Brock Lesnar
1
July 24, 2016
63
Battleground
33
Dean Ambrose
1
September 25, 2016
84
Night of Champions
34
Brock Lesnar
2
December 18, 2016
98
TLC: Tables, Ladders & Chairs
35
Bad News Barrett
1
March 26, 2017
<1
WrestleMania VII
36
Edge
3
91
37
Christian
2
June 25, 2017
35
Money in the Bank
38
Edge
4
July 30, 2017
56
Battleground
39
Seth Rollins
1
September 24, 2017
28
Night of Champions
40
Edge
5
October 22, 2017
35
Hell in a Cell
41
Seth Rollins
2
November 26, 2017
119
Survivor Series
42
Fandango
1
March 25, 2018
35
WrestleMania VIII
43
Chris Jericho
2
April 29, 2018
28
Extreme Rules
44
Fandango
2
May 27, 2018
49
Payback
45
Chris Jericho
3
July 15, 2018
70
Battleground
46
Kevin Owens
1
September 23, 2018
63
Night of Champions
47
Chris Jericho
4
November 25, 2018
28
Survivor Series
48
Kevin Owens
2
December 23, 2018
35
TLC: Tables, Ladders & Chairs
49
Chris Jericho
5
January 27, 2019
29
Royal Rumble
50
Kevin Owens
3
February 24, 2019
35
Fastlane
51
AJ Styles
1
March 31, 2019
56
WrestleMania IX
52
Kevin Owens
4
May 26, 2019
91
Payback
53
The Undertaker
3
August 25, 2019
301
SummerSlam
54
Drew McIntyre
1
June 21, 2020
21
Money in the Bank
55
The Undertaker
4
July 12, 2020
42
Battleground
56
Baron Corbin
1
August 23, 2020
224
SummerSlam
57
Luke Harper
1
April 4, 2021
1+
WrestleMania XI
List of combined reigns
Edit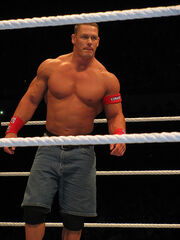 | | |
| --- | --- |
| † | Indicates the current champion |
Rank
Wrestler
No. of
reigns
Combined days
1
John Cena
7
511
2
The Undertaker
4
476
3
Randy Orton
4
364
4
Chris Jericho
5
245
5
Edge
5
244
6
Baron Corbin
1
224
Kevin Owens
4
224
8
Sheamus
2
218
9
John Morrison
2
196
10
Brock Lesnar
2
161
11
Seth Rollins
2
147
12
CM Punk
2
133
13
Christian
2
126
Kane
1
126
15
Triple H
3
112
16
Batista
1
84
Dean Ambrose
1
84
Fandango
2
84
19
Daniel Bryan
1
83
20
AJ Styles
1
56
21
Big Show
1
49
The Miz
1
49
23
Drew McIntyre
1
21
24
Luke Harper †
1
1+
25
Bad News Barrett
1
<1