The WWE United States Championship is a professional wrestling championship promoted by the American professional wrestling promotion WWE on the SmackDown brand. Along with the Intercontinental Championship on the Raw brand, it is one of the two secondary titles of the promotion. It is currently held by Kevin Owens, who is in his first reign.
The championship was established on April 5, 2010, and The Miz was the inaugural champion after last eliminating Kofi Kingston in a 20-man battle royal.
The championship was originally exclusive to the Raw brand until early 2016 when all championships would be declared as dual-branded, ending the initial brand extension. As a result of the 2020 draft, the United States Championship became exclusive to the SmackDown brand.
The inaugural champion was The Miz, who also has the shortest reign with the championship, his third reign lasted 1 day. Fandango has the longest single and combined reign at 448 days. AJ Styles and The Miz hold the most reigns with 4 each.
Kevin Owens is the current champion in his first reign. He won the title by defeating former champion Aleister Black at the Elimination Chamber pay-per-view event on February 14, 2021.
Title history
Edit
| No. | Wrestler | Reign | Date | Days held | Event |
| --- | --- | --- | --- | --- | --- |
| 1 | The Miz | 1 | April 5, 2010 | 168 | Raw |
| 2 | MVP | 1 | September 19, 2010 | 64 | Night of Champions |
| 3 | The Miz | 2 | November 21, 2010 | 70 | Survivor Series |
| 4 | Shelton Benjamin | 1 | January 30, 2011 | 168 | Royal Rumble |
| 5 | R-Truth | 1 | July 17, 2011 | 28 | Money in the Bank |
| 6 | The Miz | 3 | August 14, 2011 | 1 | SummerSlam |
| 7 | Goldust | 1 | August 15, 2011 | 48 | Raw |
| 8 | Sheamus | 1 | October 2, 2011 | 77 | Battleground |
| 9 | Justin Gabriel | 1 | December 18, 2011 | 64 | TLC: Tables, Ladders & Chairs |
| 10 | Sheamus | 2 | February 19, 2012 | 42 | Elimination Chamber |
| 11 | Matt Hardy | 1 | April 1, 2012 | 78 | WrestleMania II |
| 12 | MVP | 2 | June 17, 2012 | 154 | No Way Out |
| 13 | Matt Hardy | 2 | November 18, 2012 | 140 | Survivor Series |
| 14 | Big Show | 1 | April 7, 2013 | 42 | WrestleMania III |
| 15 | Alberto Del Rio | 1 | May 19, 2013 | 56 | Extreme Rules |
| 16 | Big Show | 2 | July 14, 2013 | 105 | Money in the Bank |
| 17 | Dolph Ziggler | 1 | October 27, 2013 | 120 | Hell in a Cell |
| 18 | John Morrison | 1 | February 23, 2014 | 42 | Elimination Chamber |
| 19 | Daniel Bryan | 1 | April 6, 2014 | 28 | WrestleMania IV |
| 20 | The Miz | 4 | May 4, 2014 | 77 | Extreme Rules |
| 21 | John Morrison | 2 | July 20, 2014 | 63 | Battleground |
| 22 | Kofi Kingston | 1 | September 21, 2014 | 35 | Night of Champions |
| 23 | Wade Barrett | 1 | October 26, 2014 | 50 | Hell in a Cell |
| 24 | Kofi Kingston | 2 | December 14, 2014 | 113 | TLC: Tables, Ladders & Chairs |
| 25 | Fandango | 1 | April 6, 2015 | 448 | Raw |
| 26 | Christian | 1 | June 26, 2016 | 273 | Money in the Bank |
| 27 | AJ Styles | 1 | March 26, 2017 | 147 | WrestleMania VII |
| 28 | Finn Bálor | 1 | August 20, 2017 | 35 | SummerSlam |
| 29 | AJ Styles | 2 | September 24, 2017 | 147 | Night of Champions |
| 30 | Luke Harper | 1 | February 18, 2018 | 35 | Fastlane |
| 31 | AJ Styles | 3 | March 25, 2018 | 35 | WrestleMania VIII |
| 32 | Seth Rollins | 1 | April 29, 2018 | 77 | Extreme Rules |
| 33 | Dean Ambrose | 1 | July 15, 2018 | 260 | Battleground |
| 34 | Samoa Joe | 1 | March 31, 2019 | 84 | WrestleMania IX |
| 35 | Randy Orton | 1 | June 23, 2019 | 64 | Money in the Bank |
| 36 | Sami Zayn | 1 | August 25, 2019 | 260 | SummerSlam |
| 37 | Baron Corbin | 1 | May 10, 2020 | 42 | Extreme Rules |
| 38 | Sami Zayn | 2 | June 21, 2020 | 21 | Money in the Bank |
| 39 | Baron Corbin | 2 | July 12, 2020 | 37 | Battleground |
| 40 | Aleister Black | 1 | August 18, 2020 | 5 | SmackDown |
| 41 | AJ Styles | 4 | August 23, 2020 | 50 | SummerSlam |
| 42 | Aleister Black | 2 | October 11, 2020 | 126 | No Mercy |
| 43 | Kevin Owens | 1 | February 14, 2021 | 49+ | Elimination Chamber |
List of combined reigns
Edit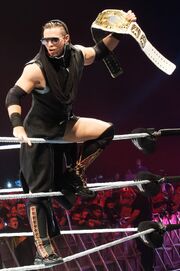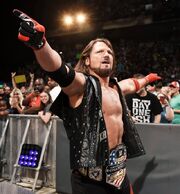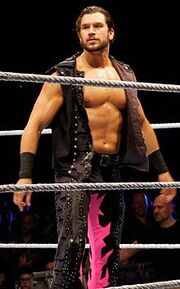 | | |
| --- | --- |
| † | Indicates the current champion |
Rank
Wrestler
No. of
reigns
Combined days
1
Fandango
1
448
2
AJ Styles
4
379
3
The Miz
4
316
4
Sami Zayn
2
281
5
Christian
1
273
6
Dean Ambrose
1
260
7
Matt Hardy
2
218
MVP
2
218
9
Shelton Benjamin
1
168
10
Kofi Kingston
2
148
11
Big Show
2
147
12
Aleister Black
2
131
13
Dolph Ziggler
1
120
14
Sheamus
2
119
15
John Morrison
2
105
16
Samoa Joe
1
84
17
Baron Corbin
2
79
18
Seth Rollins
1
77
19
Justin Gabriel
1
64
Randy Orton
1
64
21
Alberto Del Rio
1
56
22
Wade Barrett
1
50
23
Kevin Owens †
1
49+
24
Goldust
1
48
25
Finn Bálor
1
35
Luke Harper
1
35
27
Daniel Bryan
1
28
R-Truth
1
28